http://www.bbc.com/news/world-europe-42723492
Romania to have first female prime minister, Viorica Dancila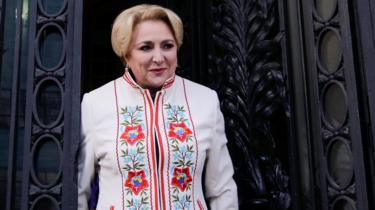 Viorica Dancila has been named as Romania's first female PM following the sudden resignation of Mihai Tudose.
Ms Dancila, a member of the European Parliament, is regarded as an ally of the governing Social Democratic Party (PSD) leader Liviu Dragnea.
President Klaus Iohannis says he wants her appointment approved quickly by parliament and a new government in place by 1 February.
Ms Dancila, 54, is Romania's third prime minister in seven months.
The PSD has been gripped by a power struggle which also claimed former PM Sorin Grindeanu in June.
"For me it's very clear that the Social Democrats have a majority… so I weighed all the arguments and decided to name their proposal [Ms Dancila] for premier," Mr Iohannis said after announcing the appointment.
Ms Dancila has served in the European Parliament since 2009. Mr Dragnea described her as "a respected MEP in Brussels… who doesn't seek conflict, is communicative and has good relations with the [European] Commission".
Why did Mihai Tudose resign?
Mr Tudose quit on 15 January after his own party withdrew its backing.
Reports say he fell out with Mr Dragnea after sparring with Interior Minister Carmen Dan, a Dragnea ally.
Mr Tudose said he he was leaving "with his head high".
"I did not want to break the party," he said. "They named me, they removed me. I take responsibility for my deeds and I do not regret anything in my actions [as prime minister]."
Who is Liviu Dragnea?
Mr Dragnea has been in politics for more than two decades. He has served as a cabinet minister but was barred from becoming prime minister in 2015 because of a conviction for ballot-rigging during a 2012 referendum.
He was given a one-year suspended prison sentence, later increased to two years.
Prosecutors are also investigating allegations that he illicitly obtained EU funds during his time in local politics in Teleorman, in 2000-2012. He denies wrongdoing, saying the allegations are politically motivated.
Related Topics
More on this story
More Videos from the BBC
Rare aircraft final flight, on M5
'We are very worried about him'
Plaid 'appalling' on dealing with discipline
The Queen on how it feels to wear a heavy crown
Anger on streets over royal wedding row
Wardrobe killer shows 'no remorse'
Elsewhere on BBC
BBC NewsColombia bridge collapses killing nine
BBC NewsFuneral for Aldi worker killed in store
BBC NewsTransgender model on German Playboy cover
You Might Also Like
BBC TravelCanada's most beautifully built city
BBC FutureThe ancient Peruvian mystery solved from space
BBC FutureWhat is a 'normal' sex life?
Top Stories
Koreas to carry single flag at OlympicsHas Trump made the world more dangerous?Dylan Farrow's 'outrage' at Woody Allen
Features
Has Trump made the world more dangerous?
Quiz: Could you pass Trump's brain test?
Spotlight turns on Palestinian viral slap video teen
'White race' remark sparks row in Italy
Can anyone open a school at home in California?
When you can eat carbs for dinner
'Hologram leader' who wants to rule in exile
Why Turkey is poised to attack enclave in Syria
Memories and beauty captured in Africa
Most Read
From Around the Web
One Thing All Liars Have in Common, Brace YourselfTruthFinder
Fans Couldn't Believe Celine's Responsemillstreamsaladbar.com
What Your Side Hustle Could Be Doing To Your HealthThe Good Men Project Magazine
Jay-Z Caught Shapeshifting On United Airlines Flight To LAXDownload TopBuzz Video| Google Play
Anyone Considering A Walk-In Tub In 2018 Should See This.Now It Counts
[Gallery] Car Cleaning Tips You'll Wish You Knew SoonerTribunely
BBC News Services